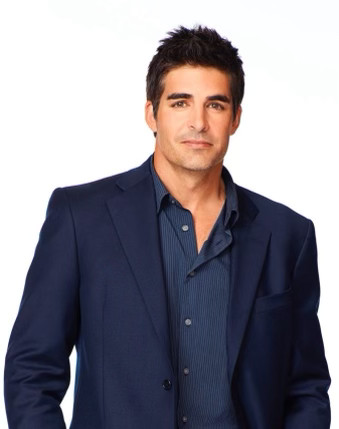 Galen Gering plays Rafe Hernandez on "Days Of Our Lives" which airs on Peacock.. He also played Luis Lopez-Fitzgerald on "Passions".
Why did you choose acting as a career?
In a way it actually chose me. I say that because I was in my final semester in college and the University of Miami when I landed the job on Passions. I thought it would last about six months and then I'd be fired. Remarkably, the show lasted for a decade, and I became a large part of it.
Which actors inspire you?
The list is long. I love some for their simplicity and others for their extreme choices. There are so many great actors some examples would be P. Newman, A. Hopkins, P and D Hoffman, D Washington, J Lemmon, M Caine, S Penn, M Freeman, J Bridges. And so on...
What do you like about Rafe?
I like that he never gives up. In the face of adversity, he's tireless. And he'd do anything for those he loves.
Do you like playing a cop and why?
It's fun to fight for what's right. Although it might be interesting if he were to do some bad things more often.
Do you have a favorite cop on the show over the years aside from yourself?
As far as favorite cops go, I really enjoyed working with Lamon Archey who played Eli. He liked to improv a lot. I'm not sure if that's because he couldn't remember his lines but regardless, we always had a blast and he made it feel like more of a precinct
Which characters were the most fun to arrest and/or have at the police station?
Clyde Weston, Andre Dimera and Stefano DiMera, Chad DiMera, Ej Dimera. Pretty much any DiMera it would seem.
What was your favorite crime that your character investigated?
Solving the baby kidnapping with Nicole Walker.
What are some of your favorite story lines from Days Of Our Lives?
I think one of my favorite storylines would have to be the Rafe doppelgänger story. He was a guy hired by EJ to impersonate Rafe and was pretty undesirable character. It was a fun challenge and a great opportunity to be a little wild. I really enjoyed that.
What do you consider Rafe's most successful case?
Has he solved any? I'm not sure...
What are his biggest fails?
Love.
Do you think that Rafe is cursed when it comes to love?
It would certainly appear so.
Who do you most enjoy doing scenes with?
I wouldn't say there's anyone I enjoy doing scenes with the most for fear of reprisal from my cast mates. But with that said, I always enjoyed working with Allie Sweeney, Billy Flynn, Dan Feuerriegel, Ari Zucker, Tamara Braun and Camila Banus. These are basically the people I usually work with, and they're pretty awesome.
Is there a story line that you haven't done that you would like to do?
If there was a storyline, I haven't done I'd say it would be a story in which there is a fall from Grace. The character I play seems too often, if not always do the right thing, so it would be good to mix that up to surprise the audience to see him go through some sort of change as the result of something in his life and to be a more flawed character.
What were some of your favorite story lines from Passions?
The outlandish stories with precious the orangutan, the Pirates of the Caribbean spoof, searching for my father in Mexico with Sheridan Crane.
What do you like about working on soaps?
The consistency, being able to work close to home and our great cast of course!





Share on Facebook | Twitter | Pinterest | Tumblr | Google+